Schedule:
09:30 EDT – 10:00 EDT: Meeting - attendance limited to senior members
10:00 EDT – 12:00 EDT: Training – attendance open to everyone
The training program will include three phases:
Pt. 1: Warm up & tai-sabaki
Pt. 2: Review of fundamental kata
Pt. 3: Applications, including advanced te-gatana training
For more information, please contact us via: info@nihonjujutsu.pt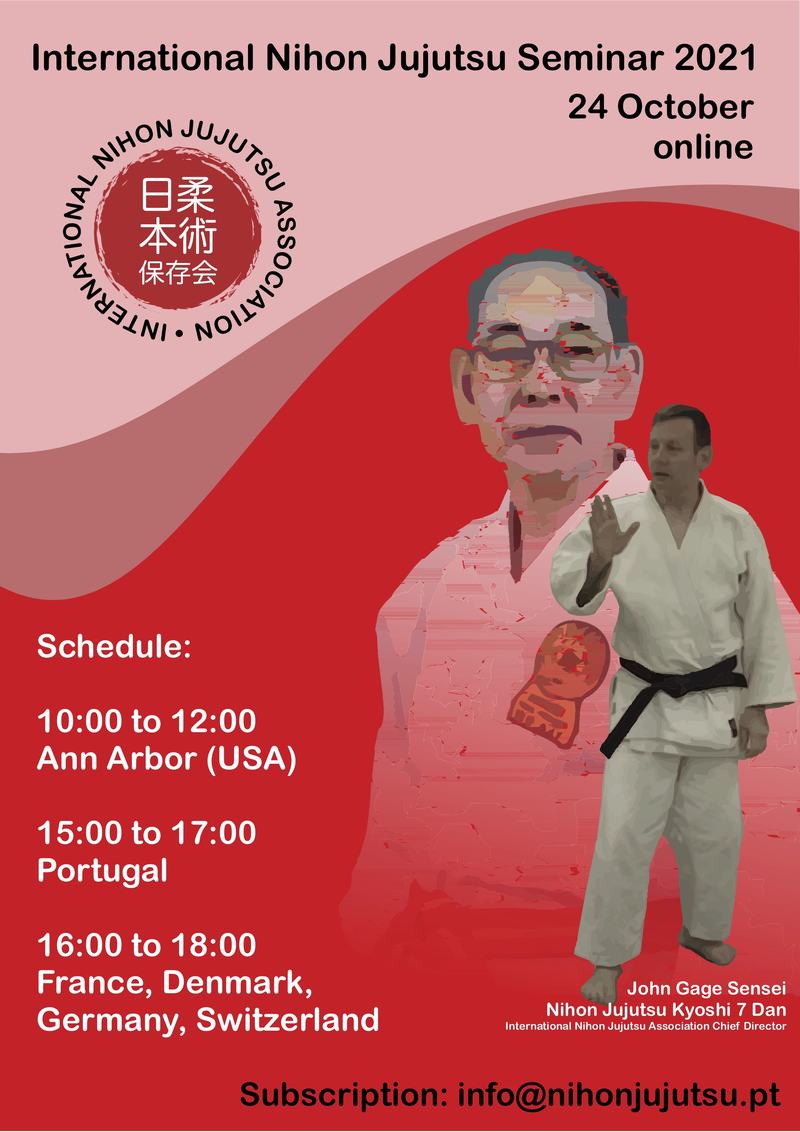 2019 Kokusai Budoin, IMAF European Seminar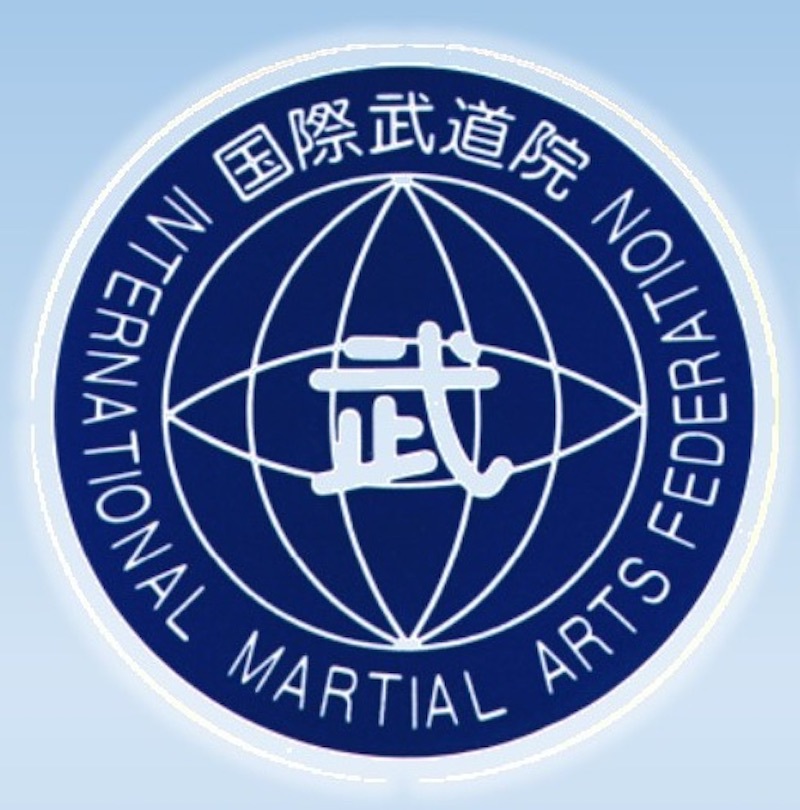 Dates: 19 & 20 October 2019
Location:
C.R.E.P.S. 4 allée du Sommerhof
67035 STRASBOURG FRANCE
Schedule
Officials Meeting: Friday • 16:30 (Branch Directors only)
Training: Saturday from 09:00 to 12:00 / 14:00 to 18:00
Training: Sunday from 09:30 to 12:30
Featuring Japan Headquarters Representatives
NOBETSU Tadanori
Karate-do Hanshi 10th Dan
Kokusai Budoin, IMAF Chief Director
IIOKA Hitoshi
Karate-do Hanshi 8th Dan
KUMUZAWA Masayuki
Iaido Kyoshi 8th Dan
GAGE John
Nihon Jujutsu Kyoshi 7th Dan
KOMOTO Jun
Aikido Kyoshi 6th Dan
ABE Masashi
Aikido Assistant
2019 Satoh Tadayuki Seminar
Dates: 9, 10 & 11 August, 2019
Join us in Oregon for a seminar with Satoh Tadayuki Sensei
• Waseda University Aikido Shihan
• Long-term Personal Student of Tomiki Kenji Sensei, Founder of the Japan Aikido Association
• Instructor at the National Japanese Police University
Location:
Pacific Rim Martial Arts Academy
8970 SW Burnham Street.
Tigard, OR 97223
855-436-2836
Contact: mmartyn@prmaa.com
Event Information:
Event Registration: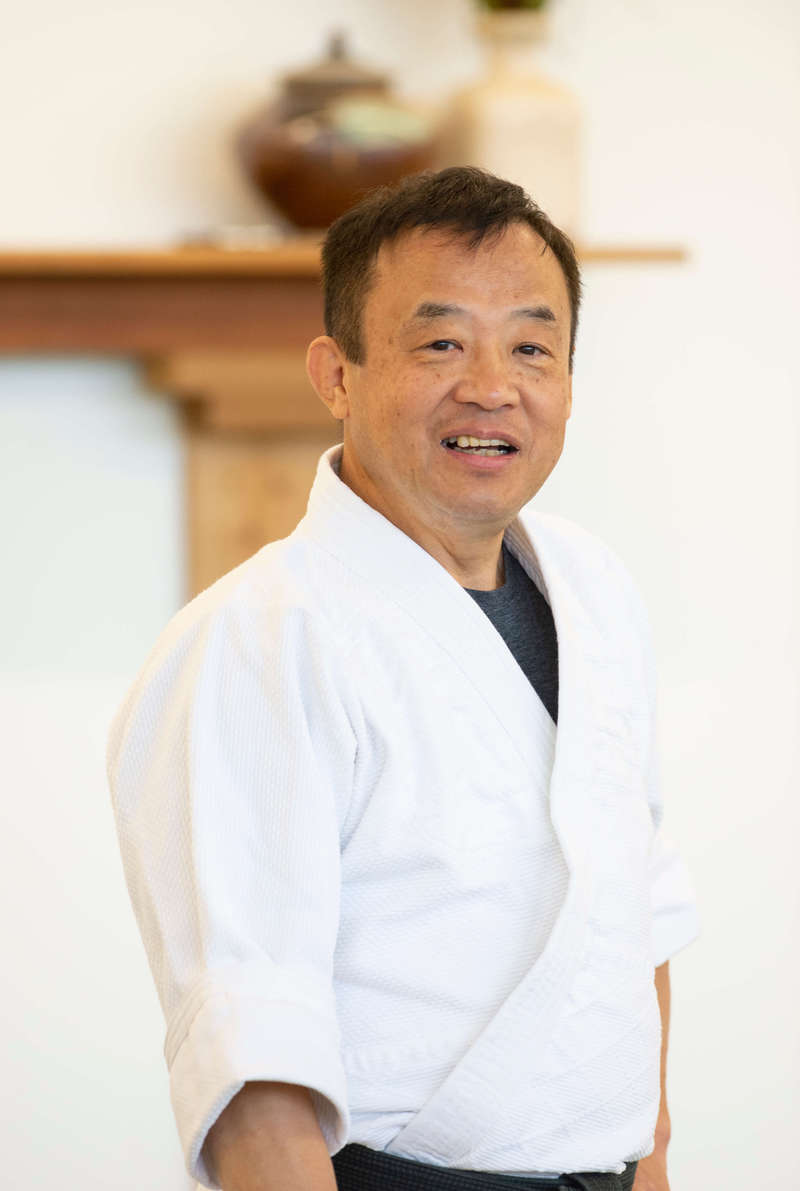 2019 Kokusai Budoin IMAF Americas 35th Anniversary and Seminar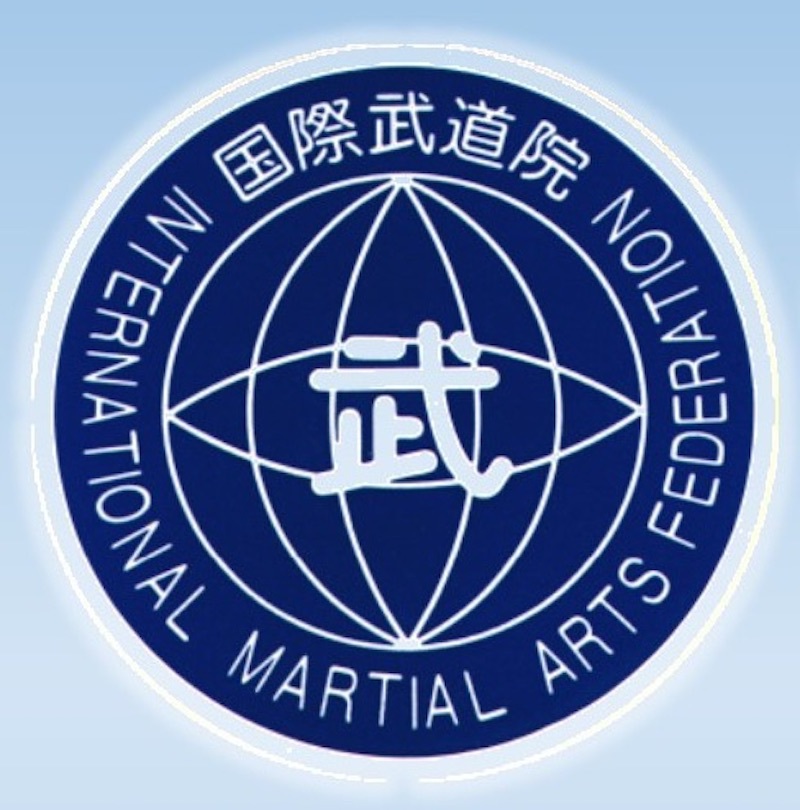 Dates: 8, 9 & 10 November, 2019
Location
Kashimon Dojo
37114 N Thrill Hill Road
Eustis, FL 32736 USA
Contact
Jose Juan Cruz: uask@msn.com
Sabastian Velilla: imafamericas@yahoo.com
Join us this summer for a 3-day world-class training opportunity at the new International Training Center in Tigard, OR. The camp immediately precedes the Junior Olympics and will feature top level instruction and randori with other athletes and champions from both the US and Japan. US Judo will be sending athletes to the event and each day will feature a morning (9 - 11:30am) and evening session (6 - 8:30am) with opportunities for touring Portland or just relaxing during the afternoons. The morning sessions will be reserved for juniors (ages 6-12) and our event sessions will be for adults and advanced juniors. If your goal is to maximize your time training, you have the option of participating in an open mat from 1:30 - 3pm each day.
Our camp this year will feature Mr. Yasuyuki Muneta, 2x World Champion and 3x Asian Champion, and Ms. Megumi Tachimoto, World Silver Medallist and 3x Paris Grand Slam Champion.
Don't miss this event!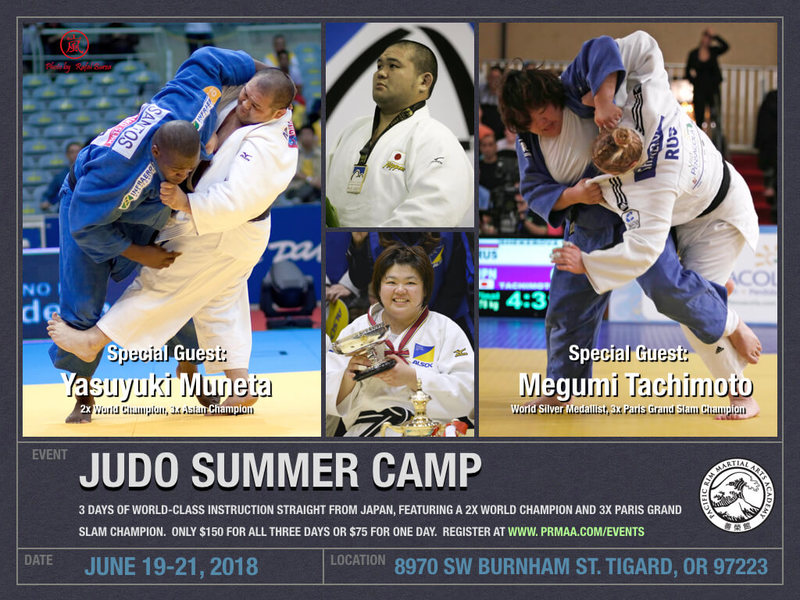 2018 Summer Seminar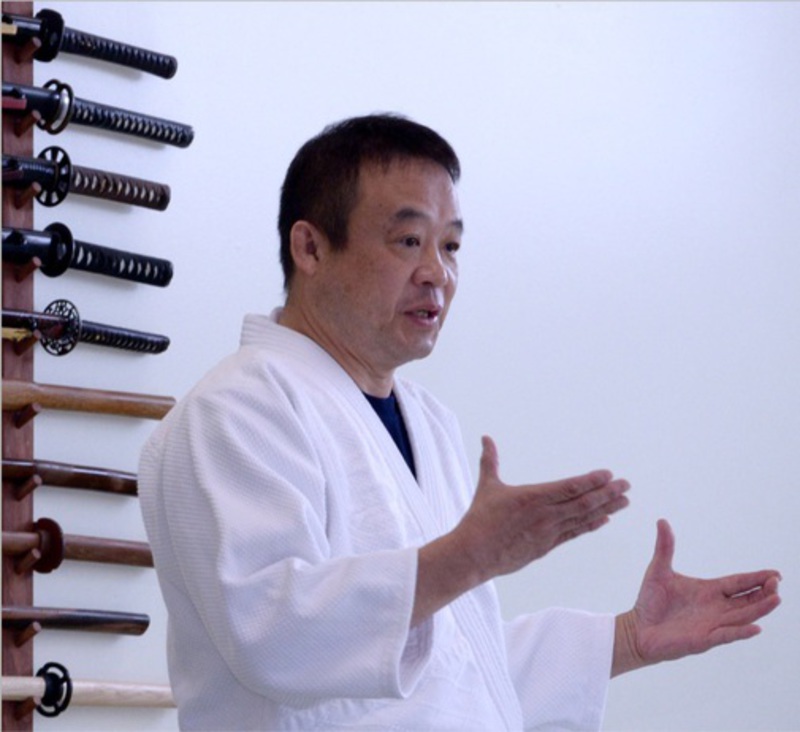 Tadayuki Satoh Sensei
Seminar • August 11-12th, 2018 • Pacific Rim Martial Arts Academy
Join us for a seminar this August with Mr. Tadayuki Satoh, 7th Dan Shihan at Waseda University. Mr. Satoh has been at our dojo two previous times and he is one of the most popular instructors we have ever hosted due to his immense knowledge and his teaching style. Mr. Satoh is one of the world's leading Aikido and Judo experts and our seminar will feature the techniques and counters of Tomiki Aikido as well as teaching "lost judo techniques" originally taught by Kano. Mr. Satoh will also discuss and demonstrate the connections between Judo and Tomiki Aikido.
LOCATION
Pacific Rim Martial Arts Academy
8970 SW Burnham Street.
Tigard, OR 97223
855-436-283
CONTACT: mmartyn@prmaa.com
Event Information: https://www.prmaa.com/events/
We sincerely regret to announce that the 2018 Kokusai Budoin, IMAF International Seminar has been canceled due to unforeseen circumstances.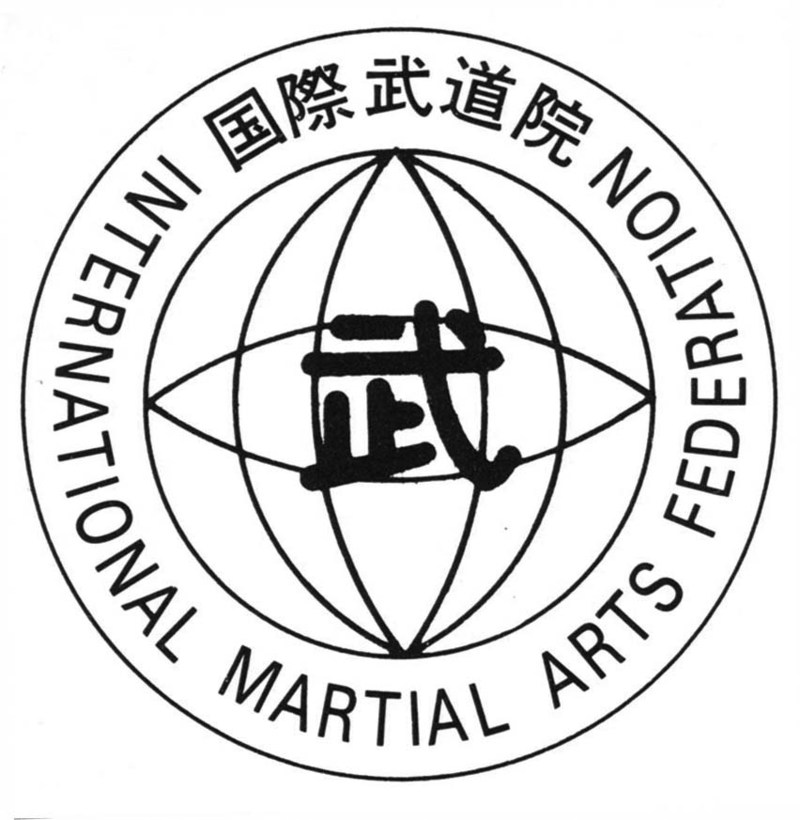 2018 Spring Aikido, Jujutsu & Judo Seminar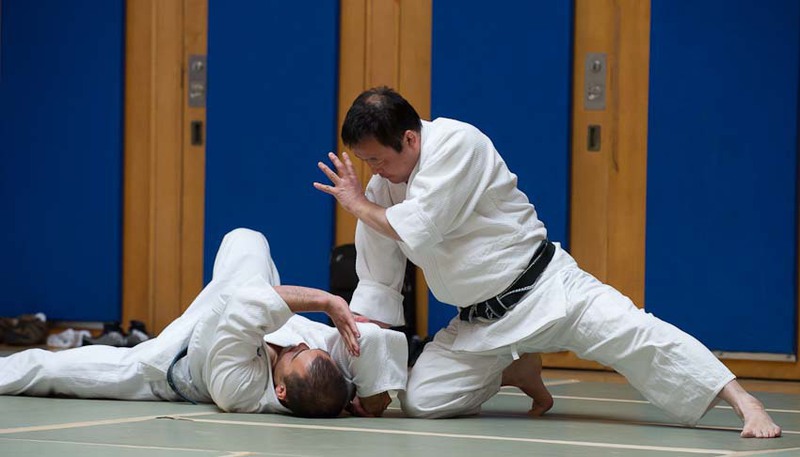 Satoh Tadayuki Sensei - Waseda University Aikido Shihan
2018 Spring Aikido & Jujutsu Seminar
March 16, 17 & 18 2018
Satoh Tadayuki Sensei is one of the world's leading experts of Tomiki-style aikido. He studied directly with Tomiki Kenji Sensei, founder of the Japan Aikido Association, in the living room of his house, and later at Waseda University. In 2007, Satoh Sensei was granted the position of Shihan of Waseda University Aikido club, a position that had been vacant since Professor Tomiki's death in 1979. Additionally, he teaches aikido at the Japan Police University, and international seminars in the Americas, Europe and throughout Japan.
Also, as an accomplished judoka, Satoh Sensei brings a unique and inspiring perspective to the links between Kodokan judo and aikido.
INTERNATIONAL NIHON JUJUTSU ASSOCIATION
Denmark Seminar
21st — 22nd APRIL 2018
LOCATION / DOJO
Shogun Tårnby Jujitsu
ADDRESS
Sneserevej 10
2770 Kastrup
Denmark
21st of April 10.00AM — 4.00PM
22nd of April 10.00AM — 2.00PM
PRICES
Saturday 300 kr – approx. 40€ (Lunch included)
Sunday 150 kr – approx. 20€
Full weekend 400 kr - approx. 50€
DEADLINE FOR REGISTRATION 1st OF APRIL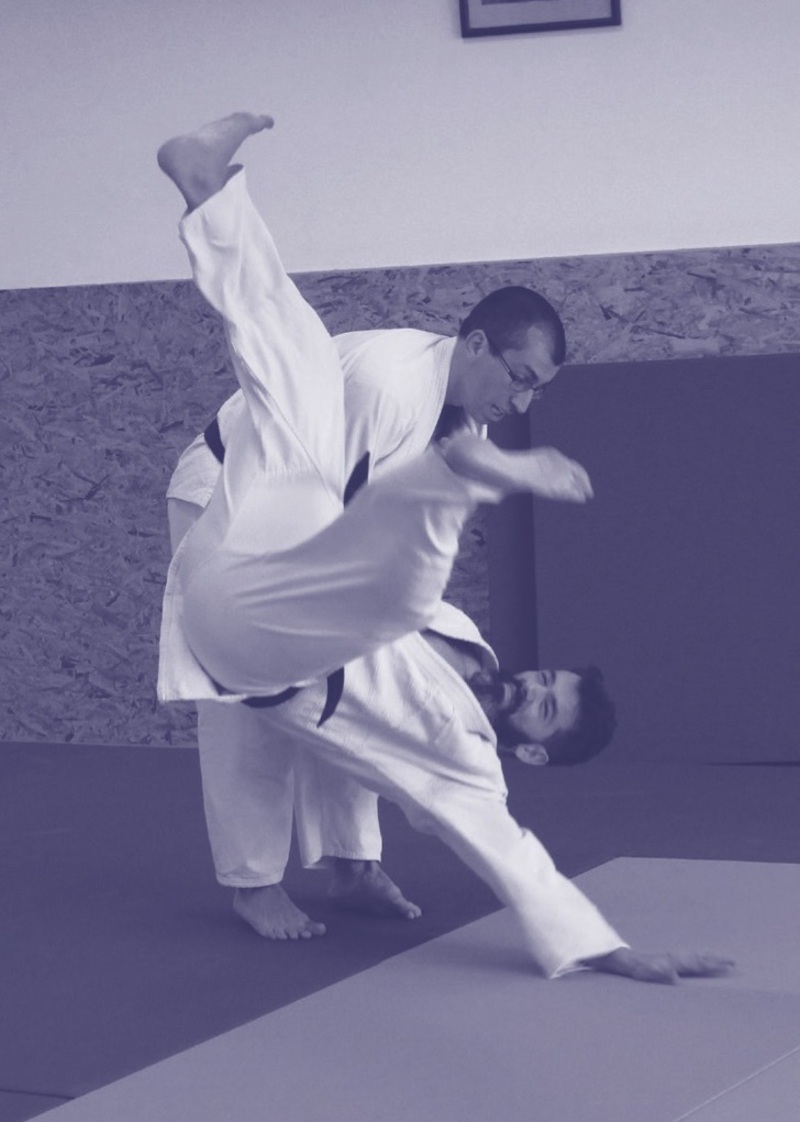 Sato Shizuya Memorial Seminar 2018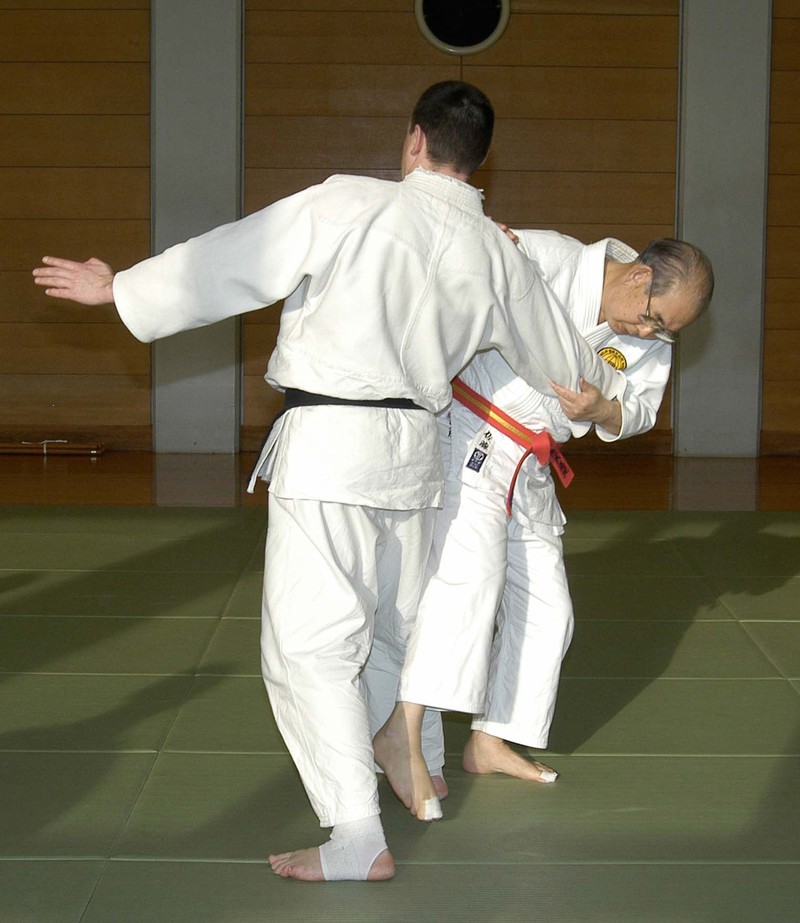 February 24 2018
09:00 – 10:30 AM:
Session for all current Nihon Jujutsu students
120:30 -12:00PM:
Session for all current Nihon Jujutsu students and interested individuals – beginners welcome!
The Sato Shizuya Sensei Memorial Seminar is an annual event dedicated to philosophical and technical aspects of Nihon Jujutsu, as well as a celebration of our founder's life and teachings.
Please join us for this extraordinary event!
Contact Information:
Primera Escuela de Karate de Cidra
José Luis Ponce de León TEL: (939) 639-2716
Carlos I. Ortiz TEL: (787) 317-6760
Join us for Three Days of intensive martial arts training, friendship and camaraderie
Date: October 5 - 7, 2018
Location:
Dance by Holly Rock (Dance Studio), 834 N. Cocoa Blvd.
- 2nd Floor, Cocoa, FL
The studio is located above the Wells Fargo Bank on Rt. US 1.

Sessions: Karatedo & Aikido & Nihon Jujutsu & Kobudo
Featuring outstanding instructors Jose Juan Cruz-sensei, G. Kenneth Clark-sensei, and Rick Georg Jr-sensei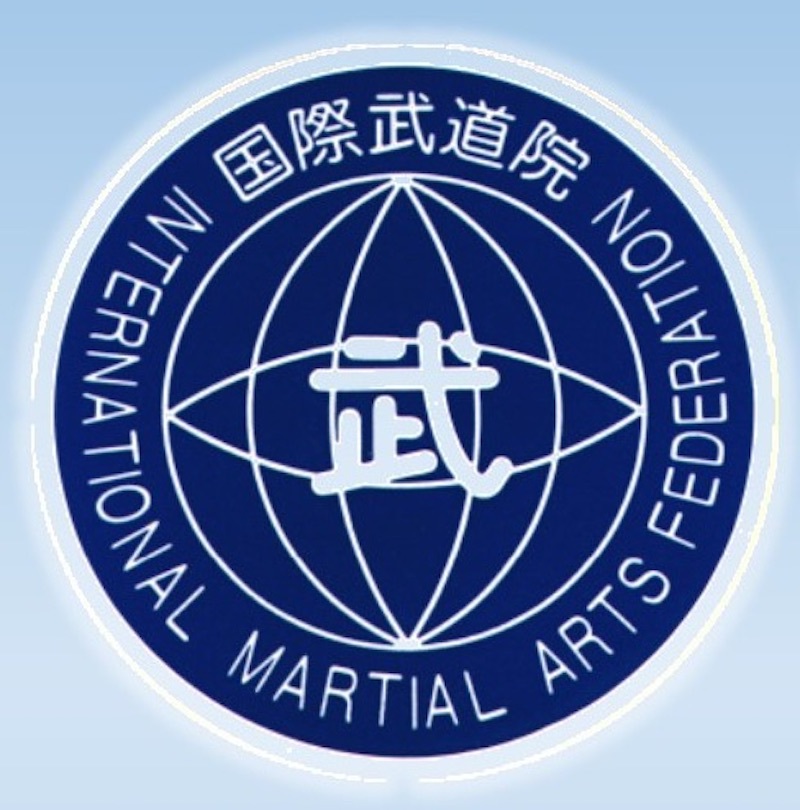 2019 INJA Denmark Seminar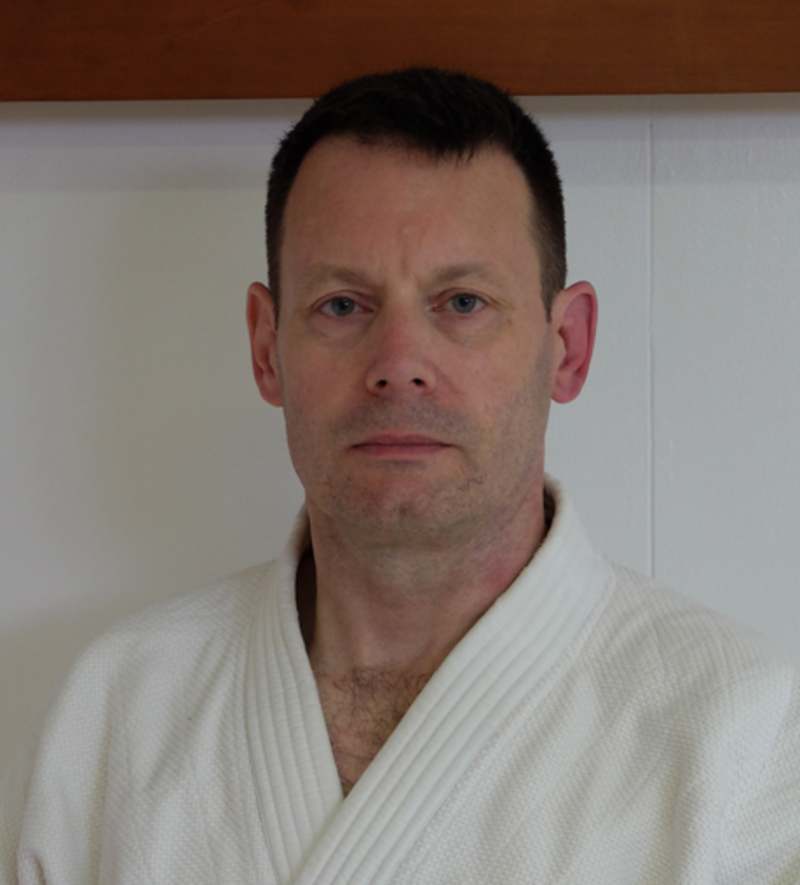 Taught by John B. Gage
March 15 - 17 2019
John Gage is one of the world's foremost non-Japanese leaders in traditional, heritage martial arts. Besides his 7th Dan in Nihon Jujutsu, Gage-sensei is 4th Dan Judo (Kokusai Budoin, IMAF) and 3rd Dan Judo (All Japan Judo Federation).
For info contact Theis: twederkinch@hotmail.com or call +45 31 43 24 12
LOCATION / DOJO
Park allé 292
2605 Brøndbyvester
Copenhagen, Denmark
Training Passes
15th of March (Brown and Black belts only): 05.00PM — 07.00PM
16th of March: 10.00AM — 04.00PM
17th of March: 10.00AM — 02.30PM
PRICES
Friday 100 kr - 14€
Saturday 300 kr - 40€ (Lunch included)
Sunday 200 kr - 27€ (Lunch included)
Saturday + sunday 450 kr - 60€ (Lunch included)
Fri + Sat + Sun 500 kr - 67€
(Lunch included Sat+Sun)
Principles of Budo,
the origins and practice of aikido and judo
Join us to explore the origins and applications of both Judo and Aikido with the internationally acclaimed instructor, Satoh Tadayuki Sensei
Shihan, Kisuikan Dojo & Waseda University Aikido Club, Tokyo, Japan
Founder, Renaissance Yawara International Association
Personal student of Tomiki Kenji Sensei
2020 Seminar Schedule
Registration Deadline March 10th, 2020
Friday, March 13th
Registration: 4:30pm
Evening Session: 5:30 - 7:00pm
Saturday, March 14th
Opening Ceremony: 9:15am
Morning Session: 9:30 - 11:30am
Lunch Break: 11:30 - 12:45pm
Afternoon Session: 1:00 - 3:00pm
Reception (at JMAC): 5:30 - 7: 30pm
Sunday, March 15th
Morning Session: 9:30 - 11:30am
Closing Ceremony: 11:40am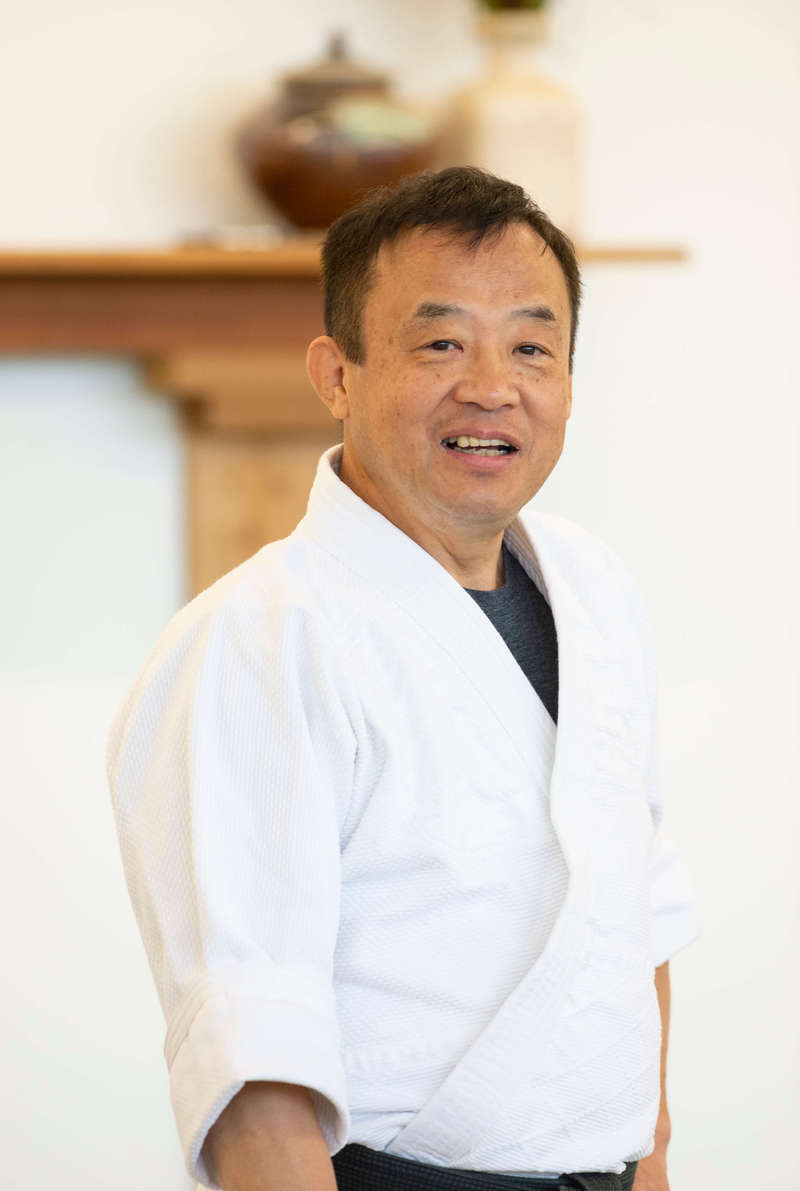 2020 World Nihon Jujutsu Seminar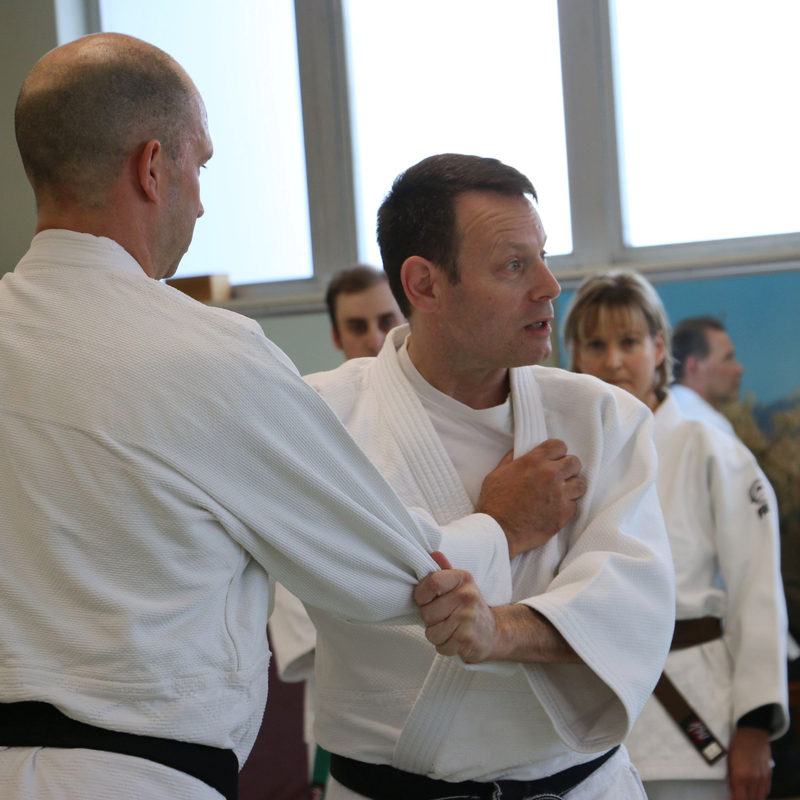 Due to the profound and internationally widespread effects of the Corona virus, I regret to inform you that the 2020 World Nihon Jujutsu Seminar has been canceled.
Going Forward: While the future remains clouded by the current situation, I look forward to the day when we can once again study, compete and share during our international, regional and local events.
12th June, 2022
Times
USA: 10:00 - Noon (EDT)
Portugal: 15:00 - 17:00
France, Denmark, Germany, Switzerland: 16:00 - 18:00
For more information, please contact us via: info@nihonjujutsu.pt